Do you need a new website? How to tell
Websites are the most important aspect of your company's sales and marketing efforts in today's world.
People spend an ever-increasing amount of time in front of screens today, whether it be a desktop computer, or more often, smartphones. Whether you are a pizza shop or a high-end manufacturer, someone who is new to your business will likely land on your website to learn more about you before deciding to engage in a sales conversation.
Because of this, having an informative, and aesthetically pleasing website that is easy to use is a factor of huge importance when it comes to the perception of your brand and a user's willingness to engage with you. How your website looks and functions will directly influence how users view or perceive your company. A poor design or user experience has the ability to negatively impact the perception of your product or service or brand as a whole. We're obviously biased, but the importance of a well-designed website today is imperative. Below, we'll describe a few of our different approaches to website design projects. Our hope is that it helps you determine what time of website and approach may best fit your needs on your next website project.
So you may be wondering. "Is my website bad? I can't tell".
Here are some questions you should ask yourself.
Does your site look old?
Have you updated your website in the past 2 or 3 years?
How easily can you update your website? If at all.
Do you feel that your website matches the vision of your brand?
Do you have poor lead generation rates?
Do you have a high bounce rate?
Does your website take more than about two seconds or less to load?
Is your website hard or confusing to use?
How many seconds does it take for a user to figure out what you do, and how to get it?
Do you have existing inbound marketing efforts?
Is your site mobile-friendly and responsive?
If you've answered several of these questions with answers you're not happy with, it may be time for a new website. In the next section, we'll explain the foundational approach to starting any website redesign project.
Strategy
The foundation for any great website always lies within its strategy. In order to effectively communicate for your brand, an agency will need to correctly understand your core business, its processes, objectives, its style, and tone, as well as much, more. Our agency has built a comprehensive proven process to capture exactly that. We refer to it as a Digital Alignment Strategy Session. For any Custom Website Design or Growth-Driven Design client, we always start each engagement with this exercise. The details of that process are included below:
The strategy phase includes the first few steps of your relationship with us. We will first schedule an initial meeting for our Digital Alignment Strategy Session to get your project off the ground. Typically for this meeting, we prefer that you include any key decision-makers at your organization, but often recommend having no more than 4-6 people included if possible. Regardless of the digital tactics, the goal of this session is to learn as much as we can about your company to ensure the proper positioning, messaging, creative is reflective of your key buyer personas and their preferences. We gather this information through a few different exercises listed below.
Summary
In this introductory step, we want to ensure our team has a clear understanding of what your company does, and how it operates. You'll help the VDG team get familiar with your brand as well as any relevant products or services and the process you employ to execute that offering. In addition, our teams will have the opportunity to meet, and understand each person's key role, and expectations throughout the project or working engagement.
GPCT
In this exercise, we focus on your business Goals, Plans, Challenges, and Timelines. We will ask you to provide any overall goals that your company has such as revenue, staffing, product launches, or expansion goals. This helps us understand where to focus our efforts as digital marketing partners, or areas of emphasis for a website project.
After your goals, we'll visit the plans section of our exercise. Plans are typically anything your organization has in the works. This could be adding sales staff by Q3, or planning to move your headquarters, etc. Keeping our team abreast of those plans, helps us to understand key areas of your business, and ensure that we are accurate in our recommendations.
With all goals come challenges. We will learn about the challenges your business faces that hinder your plans and goals. These challenges could be as simple as a quirk about your audience, or something bigger like the resignation of an important employee. Whatever your challenges are, we want to hear about them so we can best support you from a digital marketing perspective.
Of course, all of this can't be done without some sort of timeline. Here, you'll simply let us know what kind of timelines you need or expect out of this project. Any key milestones that need to be met, deadlines for site launch, or even dates of your vacation where you will be unavailable to collaborate are all useful points to share.
Personas
Understanding your target audience is an important part of understanding how to market your brand. In this exercise, we will discuss your ideal buyer persona(s) profile. The areas we will want to discuss include, demographics, behavior, interests, obstacles, and other information such as where they might spend their time online.
Using this information, we will build a semi-fictitious persona(s) that can help both our team and yours to understand your different customer profiles. Creating these profiles helps us understand which personas we will be speaking with in our communications, but also double as a great way to educate your sales and service staff, and inform them of listening points to determine who exactly they are selling to, or helping.
Creative Review
Next, we'll work to develop a comprehensive document outlining your creative preferences, identify mandatories to be included in your project, and review competitors. With this process, our team will develop an understanding of how you'd like your new website to look. We will ask questions about style preferences and ask you to share any websites that you're particularly fond of. You will also be asked to share your competitors and describe to us what you do and don't like about how their website looks and works. At this stage, we can recommend informed best practices or user-experience strategies to incorporate into your site. This helps our team stay on target, and bring back creative executions that mirror your desired look and feel.
Approaches
At Vendilli Digital Group, we offer 3 different approaches for website design projects. These three include our full-service, month-to-month approach to website design called Growth-Driven Design, Custom Web Design Projects, and our small-business web design software and service called Studio V. All three offer various benefits dependent upon technical requirements, desired outcomes, budget, and timeline. I'll explain each approach and its benefits below in detail:
Growth-Driven Design

Growth-Driven Design is our full-service approach to website redesign and marketing services. The Growth-Driven Design process was coined by HubSpot and is based on the fact that an optimized website is never truly finished. Historically, many organizations have viewed website projects as something we start and then finish. By reaching the end of the project, we can wash our hands of it and get that stressful time-consuming project behind us. But this is where our agency strongly disagrees and prefers a GDD approach. A continuous approach to a website allows you to keep the website up-to-date while leveraging historical user data to inform improvement and optimization over time, in addition, our agency helps to deploy marketing tactics such as organic SEO, pay-per-click advertising, content and inbound marketing, and much more. All of these tactics are focused on driving traffic and optimizing conversions. Your website is your most important salesperson and your most valuable piece of marketing, letting this get stagnant can be costly in dollars and cents, and also in opportunity.
Most, but not all, of our GDD clients also benefit from our knowledge and expertise with the HubSpot sales and marketing platform. Using HubSpot as a CRM to manage contacts and sales opportunities allows us to track the KPI's that matter most such as new leads, the $ value of new opportunities, and ultimately better detect and reverse engineer where those leads and opportunities stemmed from. It allows us to be more efficient and effective with our time and energy so that we can be better stewards of your marketing and advertising budgets. Last but not least, HubSpot marketing automation tools give us the ability to nurture the leads that we do generate more effectively so that your digital marketing efforts actually lead to sales growth, as intended. The old saying, "20% of my marketing and advertising is effective, I'm just not sure which 20%…" is a thing no more when HubSpot software is in the picture.
The graph below helps to visualize a GDD approach vs. a traditional web project process.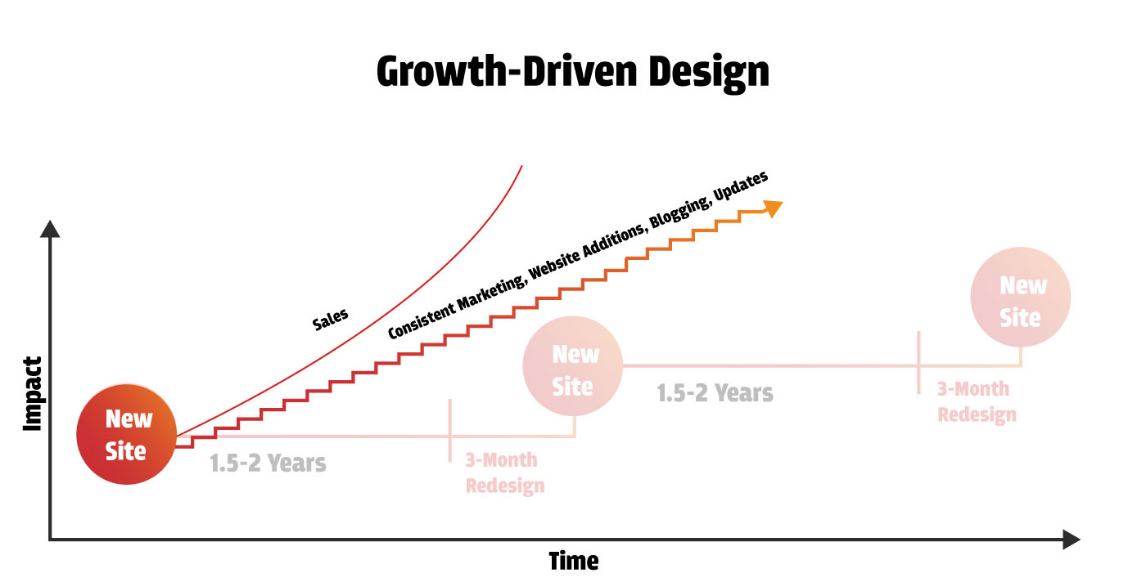 The GDD Approach
So what does the Growth-Driven Design process look like? A GDD approach is broken down into 3 stages, Strategy, Launchpad, and Growth.
Strategy
Work closely with us to develop a strategic approach to digital success. We'll help to identify your goals, plans, challenges, and key timelines, as well as much more. With this strategy in hand, our team ensures that future work remains on target.
Launchpad
Launch a minimally viable product (MVP) website (aka a "Launchpad website") containing only what is completely necessary to go live. This increases your time to value by launching a new web presence, then we will work to add to it month-over-month.
Growth
Continue to improve your digital presence by adding new web pages, and developing new content through inbound marketing strategies, pay-per-click advertising, SEO, etc. We also utilize our skills with ongoing monitoring and analysis to perpetually look for new inspiration and insights that will help us formulate ideas and strategies that we couldn't have identified at step one. We're constantly searching for the next level of "lowest hanging fruit." Our goal each month is to help you grow!
1. Strategy
The first step of Growth-Driven Design is to conduct a Digital Alignment Strategy Session, as well as a StoryBrand session with your team. These strategy meetings will help inform our agency of your business's goals, plans, challenges, and key timelines. In addition, our team will develop profiles for your key buyer personas, develop brand guidelines and creative briefs, and develop a StoryBrand messaging guide.
2. Launchpad
Once our strategy portion of the project is underway, our creative team will work with you to develop initial homepage designs based on an agreed-upon launchpad sitemap. We will help identify and outline a solid launchpad website framework and work to develop this within an agreed-upon timeline. (One of the benefits of a launchpad approach is that we can often launch a new website faster, with the idea that we will add to it over time. Most launchpad websites launch in 4-6 months vs. a traditional approach that can take 6-9 months.) At this point, our team will set up a cadence of ongoing alignment calls to cover what items for the launchpad are being worked on, what has been completed, and what we will need your review. Following this process, we'll arrive at a completed launchpad website that is ready to take live.
3. Growth
Once the website is launched, our team will transition to a marketing role, where our team helps develop content on a monthly basis, make design and development additions to your website, and deploy digital marketing efforts aimed at driving traffic and improving conversions. In addition, our agency is a HubSpot Platinum Partner that prides itself in helping our clients take full advantage of this software to provide strategic insights into their digital marketing efforts and help to close the loop between marketing and sales. Following our recommendations, our hope is that you are able to attribute revenue directly back to the point where a potential client enters your digital marketing ecosystem, which will refine your digital efforts and maximize your performance. Following this approach, we've helped numerous companies optimize and capture new sales leads to fuel their growth.
The Growth-Driven Design approach is meant to be an all-encompassing approach to website design. Our agency has built and designed it to include ongoing digital marketing support as well. GDD can certainly require a heavier financial investment than a traditional website approach, but over time, the benefits of a fully optimized website and digital marketing will start to pay dividends. The Growth-Driven Design approach will require a true partnership, where both client and agency, work together to reach their goals.
Custom Website Design
Custom website design projects follow the traditional approach to scoping, estimating, designing, then developing a new website. While following this approach isn't our most optimized, we do reserve the idea that for some folks, it still works and there is a need. Custom website projects are great for people and organizations who are comfortable enough to manage their own website within its CMS after it has been built, or for the use-cases where the website won't need to be updated regularly. Following this approach, our agency helps to provide and estimate these projects in two separate content management systems, WordPress, and HubSpot's CMS Hub. Both of these platforms offer different benefits depending upon your needs and budget, which we will highlight below. Following our process, our team will help to weigh both options and decide upon the right fit based on your needs.

WordPress or HubSpot CMS
So how do you decide between WordPress and HubSpot? We'll explain some of the differences and use cases below.
WordPress
WordPress is an open-source platform, and we typically say it's free like a puppy. The puppy may be free, but in order to care for the puppy, there are required expenses and technical debt. Due to the fact that it is open-source, it's typically a more affordable CMS and offers seemingly infinite plugins, but that upkeep can be time-consuming and expensive if you don't have the right knowledge. Following our approach, we build custom WordPress themes from scratch. This helps to avoid security issues when outdated themes expire, or people maliciously exploit them.
Overall, WordPress is more versatile when it comes to what options you have while building a website, it's just a little more complicated. WordPress offers in-depth functionalities due to its library of over 58,000 plugins, most of which are free. While HubSpot has a large variety of functions available, WordPress has more flexibility and potential for extremely custom functionalities because of plugins. This includes plugins that offer granular SEO optimization, integrations with third parties specific to your industry, and any other plugin that has been created for a specific use case. HubSpot functionalities are robust, but if your website requires highly technical functionality WordPress might be a better fit.
The Verdict:
WordPress is highly flexible and offers countless integrations and custom-free and paid features. But is more intensive to operate and maintain post-launch.
Pros:
Versatile features from an extensive library of plugins
WordPress is cost-effective
Developer Friendly
Cons:
More complex to manage
Requires consistent updates and maintenance for themes and plugins
Its versatility can create a more cumbersome CMS experience
HubSpot
If you're looking to build a website with ease of use and marketing efforts in mind, HubSpot offers a CMS that combines a great user experience, paired with powerful connections to your sales and marketing data. This collaboration and combination of tools allow your team to minimize the need for a developer to make simple adjustments and changes to your website and empowers your marketing team to make those changes based on relevant and historical customer data.
The connection of your sales and marketing automation tools with your website allows for deeper insights into the buyer's journey of your customers and prospects. When utilizing all three, HubSpot will allow you the ability to see exactly where a customer or prospect was introduced to your digital marketing efforts, what specific pages, buttons, topics, or information they were interested in, and understand where they turned into a customer, or better yet, where you may have missed out on a lost deal. This information allows organizations to laser focus their marketing efforts, as well as refine them so they can understand their prospects better and sell more.
Additional benefits to using HubSpot's CMS Hub, include the powerful SEO tools that are built into the CMS itself. Other CMS's offer a variety of add-ons or plugins for these tools, but HubSpot includes it in their offering to make suggestions on optimizing for a variety of different aspects of on-site SEO.
HubSpot CMS is also extremely user-friendly and is built with the backend user in mind. Our developers work to create a versatile, yet seamless website editor experience that uses custom-built and designed modules that play nicely with HubSpot's drag and drop block editor. The HubSpot page builder is a user-friendly drag-and-drop builder that creates a simple way to allow you to maintain your own website without the help of a developer for every detail. However, some elements of the website or additions may require a developer, but most day-to-day items are covered for a marketing team member to handle. HubSpot also hosts a massive knowledge base backed by HubSpot service agents any time you need help. So if you're struggling to make changes or additions to your website, both VDG and HubSpot are available for support.
Verdict:
CMS Hub is a CMS built with usability and marketing in mind. HubSpot features are built-in where WordPress requires plugins. It offers a user-friendly builder and seamless integrations that allow you to see the metrics of how users are interacting with your website. These features allow you to easily understand, act and improve your website user experience from a marketing perspective. One drawback is the ability to connect and integrate certain software with HubSpot can be a challenging and expensive process. HubSpot does offer an open API, and connecting data is possible, but determining these needs prior will be important.
Pros:
User-Friendly
Marketing and Sales Integrated
Does not require consistent maintenance
Great Security
Made for scaling companies
Cons:
Higher Cost
Unique compatibility challenges
HubSpot HubL language can have limitations
Your Decision
You may know exactly which CMS your company needs, but if you're the majority, you're probably still not sure. Our team will work closely with you to learn your goals and preferences to determine the system that is most beneficial to you.
Our Approach
Our approach to website design is built to work closely with you to create an effective, attractive website that you're happy with. Our process contains 4 major steps:
1. Digital Alignment Strategy session
We learn about your goals, challenges, plans, and timelines to gain a thorough understanding of your business, as well as your creative preferences.
2. Design Process
Our designers use the information gathered from our strategy session and additional conversations with your team to get started designing concepts for your review, starting with your homepage.
3. Development Process
Once the designs for all of the pages of the website have been approved, we will begin to transform that design into a real interactive website hosted in a private staging environment for your review.
4. Launch/QA
When all of the website pages have been developed, we will go through a final review stage with you to ensure everything works as it should in a quality and assurance process. From there we will set up and configure the website plugins, and connect any applications such as Google Analytics, etc. Our final step includes launching your new website.
Design
During the design process, we examine the information acquired during our strategy session and use it to inform a website layout. We will work to provide you with a homepage design and an interior page design so you can get a feel of where the design is headed. We will present this design to you in an in-person, or virtual meeting. (2-3 weeks from kickoff). During this first look, we will describe our thought process behind the design and ask for your feedback. If any changes are necessary, we will work to incorporate your feedback and schedule another meeting to review. When you are happy with your new design, we will begin to lay out the remaining pages on the site! One after another, your future website designs will be compiled into an easy-to-review document. Once all of them are completed, we will provide those designs to our developers to get started building out the website in a staging environment.
Development
The development stage of the process has two simple steps, development and review. Once your website design is approved and sent over to our developers. They will begin transforming files from our designers into HTML code in a private staging environment. This means you're close to having a new website! As development progresses through the site, we will work to keep you informed on the progress and to meet any deadlines. When our staging site is ready for review, we can schedule a meeting and/or provide a link to the new website. At this stage, the design is now a website that you can test drive by navigating pages and testing functions, however, it won't be live quite yet. Any revisions requested by the design team or you, the client, will be incorporated at this step.
Launch and QA
On an average-sized website, we typically see custom website projects launching anywhere from 6 to 9 months from the start of a project, depending on the size and function of the website and client participation. Once your website pages are approved and ready, we will go through a final inspection of the website to ensure everything is linked, functioning, and responding properly. At this stage, our team will test the website for any issues including broken links, design errors, or bugs, and pass them along to development to fix. In addition, our team will ensure all title tags and meta descriptions are completed based on each page's specific target keyword.
Now that your website is all buttoned up, we go through our final process of ensuring that all of the proper plugins or tracking codes are installed. This includes Google Analytics, Google Search Console, Yoast SEO, and any other tracking platform that may be necessary.
Here we have the moment of truth! When your site is approved to launch by our team and yours, we'll update your DNS settings to display the new website, and the final product will now be live!
We understand that when embarking on a website redesign or design project, there are a lot of different items to consider. Our team is always here to help answer any questions you may have about the best fit for you. If you do decide to work with our team on a custom website project, we hope you'll consider us for ongoing support, hosting, or digital marketing through our GDD approach, we can easily transition to these services after your new website is launched.
Small Business Web Design
If you're a small business that needs an updated online presence at a budget-friendly cost, we get it. This is why we developed a more affordable website option, Studio V. Our in-house website builder allows you to have a professionally designed website that you can control on our easy-to-use but powerful drag-and-drop CMS. This platform allows you to make your own edits yourself instead of worrying about being billed for simple updates or additions. Below we'll cover the capabilities of our Studio V platform, as well as provide information on our process of providing organizations with great-looking websites, without breaking the bank.

With Studio V, you can achieve a professionally designed website for a fraction of the cost. How can it be so affordable you may ask? Studio V removes the most expensive employee from the equation, a web developer. Studio V is a drag-and-drop, click-and-edit system that can be tailored to your vision — no coding or experience required! Anyone can pick up the system and learn how to use it.
In today's digital landscape, there are numerous do-it-yourself website builders and tools available to anyone. The true value of Studio V lies in the fact that we combine the technology of a powerful drag-and-drop website editor with the skills of a professional designer. Designing a website yourself can be a difficult and frustrating task, especially if you lack the artist's touch. We remove that hurdle by having a skilled graphic designer take your inspiration and bring it to life.
So what does a Studio V website require before getting started? Vendilli Digital Group offers 3 different levels of Studio V websites at varying budget levels. All Studio V websites do require an upfront one-time payment to get started, and a $50 per month hosting and maintenance fee will need to be set up with a credit card on file. I'll explain what that includes below.
Studio V websites do have some requirements, as well as potential add-ons to consider before deciding upon this approach. Studio V websites are required to be hosted through our Robust Amazon AWS Powered Hosting Environment. Our hosting environment is designed specifically for the use of this CMS. If removed from our server, you'll lose access to our drag-and-drop editor, and elements of the website may break. Also included as part of our hosting and maintenance plan are advanced site backup policies, an annual SSL certificate, access to our Studio V Knowledgebase, and prioritized support desk access. If you'd like to read more about our support policy, please visit our support page.
As part of our process, Studio V projects do not include copywriting or content development in our initial scope unless otherwise stated. Part of the way we keep this approach budget-friendly is by reducing the amount of time our team spends on the project. The amount of time required for a copywriter to write your content would substantially increase the number of hours needed, which is why we prefer that you provide the information about your business for these projects. If you would like us to help you with content for your website, simply let us know, and our sales team will help to determine that scope, as well as an associated budget estimate.
We do have a variety of different services that help supplement Studio V websites (additional fees typically apply) including a Digital Alignment Strategy Session, copywriting and/or "Storybrand'ing" your business, blog migration, Yext Local SEO, On-Site SEO, and more. If you would like to determine a potential fit for any of these additional items, we'll be happy to describe their benefits and associated costs at your request. Each Studio V website is different, so we like to have flexible options for almost anyone. Below is a rough breakdown of our 3 different approaches to Studio V website options:
Advanced:
Assistance in selecting a template
Basic Template customization up to 6-8 total website pages
Simple brochure-style website
1-hour Training Session
Studio:
Assistance in selecting a template
Custom designs based on your input up to 8-10 website pages
1-hour Training Session
Additional 5 hours of hands-on training, support, and setup assistance
Studio Deluxe:
Assistance in selecting a template
Custom designs based on your input up to 10-12 website pages
1-hour Training Session
Additional 5 hours of hands-on training, support, and setup assistance
Each of those 3 main offerings will be custom fit based on your needs. Our sales team will work with you to determine which approach may be best based on your budget and desired outcome. In addition, Studio V also offers a basic list of additional functionalities that will affect pricing such as e-commerce. If one of these areas is selected, our team will help to provide that information and pricing as needed. Studio V is a great platform for someone seeking a professional design, at a reasonable cost. Now let's look at what the process of building a Studio V website looks like. Below we'll describe our step-by-step approach:
Approach
Kickoff
For Studio V projects, we conduct an initial project kickoff meeting, similar to the more-in depth processes mentioned earlier. Typically shorter and more abbreviated than large project kickoff meetings, we work with you to learn about your business and website goals. Here we will discuss what pages need to be in the sitemap and how those pages will be structured. You will have the chance to share your design preferences and competitors to show us what you like and don't like about your or others' website(s). The goal of this meeting is to introduce you to your designer and share with them a design plan to move forward with.
Design
Also just like our larger projects, we will go through a similar design process. After understanding your desired website preferences, your assigned designer will work to create a homepage and an interior page either from scratch or by customizing a Studio V Template. When these pages are ready, we will schedule a time to present the design for your feedback. After receiving feedback and implementing revisions, we will be ready to create the remaining pages of the site. Once we have final approval from your on your newly designed website, we move to the training and launch phase.
Training and Launch
Now that VDG has completed your website, you should be ready to launch! If there are still pages that need completed but go outside of the scope of your purchased Studio V plan, you'll be able to either finish the website yourself or adjust your budget to include additional page designs from our design team.
When your site is ready to launch, at a time that is most convenient for you, we will conduct an included 1-hour training session to show you how to edit and make changes to your website. You will ideally leave that meeting feeling confident in maintaining your new website, adding pages, or changing content on your own. If you ever need help with any changes or have questions about Studio V, our support desk is always available to help as mentioned above.
When your training concludes, you will receive an email to create a login to access the editor for your site. This is the login information you will use to log in to your website moving forward.
When launch day comes, VDG will ensure that we have all of the necessary information such as domain and hosting access to launch your new website. Studio V launches typically take about 1 hour to complete depending on the complexity of your DNS settings. After that, you should expect to see the site up and running. Some people may experience a delay due to server propagation, in some cases, it may take up to 72 hours for the new site to display. In that case, our team will keep an eye on it, and give you a notification when your new Studio V website launches!
Determining which CMS may fit your needs, which partner will be effective, and if their approach makes sense for your organization can be a bit frustrating with so many different options. We hope this page was informative and has shed light on which approach may make the most sense for you. If you need help determining which direction you should go for a new website project, our team is more than happy to help you out. Feel free to schedule some time with us, we'll discuss your digital goals and determine what makes the most sense for your business or organization!
May We Help You With Your Website Design?
With in-depth expertise, out team has the tools and knowledge you need to improve your website's SEO strategy.